COLLECTIV SHOW "COSMOS" AT GALLERY ELLE, ZURICH, SWITZERLAND
27th of June > 27th of October 2019

Curators : Jeanne Hortense Rousseau & Atossa Meier
COLLECTIV SHOW "BE POLAR" WITH GALLERY DALTRA AT LA GRANGE AUX MOINES, MEGEVE, FRANCE
21st of December 2018 > 31st of March 2019
EXHIBITION AT THE VIP B-LOUNGE ART OF GENOVA AIRPORT, SWITZERLAND
27th of June > 2nd of October 2018
EXHIBITION IN THE GARDEN OF THE CITY HALL OF GARCHES, FRANCE
invited by the "Salon des Beaux-Arts de Garches" for its 60th anniversary !
25th of May > 10th of June 2018
2, rue Claude Liard, 92380 Garches, France
" P U L S E " EXHIBITION AT THE AIR MUSEUM IN AMBERG, GERMANY
28th of January > 22nd of April 2018
Tuesday to Friday : 2pm > 5pm / Saturday and Sunday : 11am > 5pm
Eichenforstgäßchen 12, 92224 Amberg, Germany
The word PULSE expresses the act of creation, like a life drive, an inner vibration. At the heart of this beat, we experience a breath of life that inspires us a universe where the air becomes palpable.
" A R I A " EXHIBITION AT SAINT-JACQUES CHAPEL IN BONIFACIO, CORSICA
Pisan Quarter
1st > 28th of August 2017
We were invited for an art residency last May by the Cultural Center of Bonifacio, so that we could touch the Beauty Island with our eyes. During this stay we created new images and designed this exhibition, led by the invisible thread of the wind. Like a sculptor, did not the wind singularly design the stone, the sea, the land but also the men ?
In Corsica, the wind blows more than 200 days a year. There are seven important winds: u Maestrale, a Tramontane, u Grecale, u Levante, u Punente, U Sciroccu, u Libecciu. The wind serves as Ariane's thread, it has inspired us with photographs where the presence of the wind is manifested by color volutes : it shapes them, drawing various forms, dense, curved, stretched, vaporous ...
Masterpiece of the exhibition, an imaginary organ of 4 meters long is located in the apse of the chapel.
It celebrates the union of man and the sacred; Pictured by this volute merging with plants. Far from the representations of the crucified Christ usually found in choirs of Christian places of worship, here it is Mother Earth who is celebrated.
In order to fit into the tradition of organ builders, we went to meet Jean-Louis Loriaut, the only builder currently residing in Corsica. From this encounter was born a friendship, as well as a creation, giving new life to the Ancient Organ, an eminent symbol of the Corsican cultural heritage.
The large white sails set in motion by air movements make the presence of the wind sensitive while offering an immersive dimension.
They also evoke the organ-blowers, of which Jean-Louis Loriaut, speaks in these terms: "Before the arrival of electricity, the wind was administered by a blower. One could not go and play an instrument without the help of that person. The first electric fans arrived in Corsica in the 1930s, producing a more constant wind in quantity and pressure but unfortunately leaving behind natural breathing, true musical attitude."
He also pointed out that organ builders often use the word wind to replace the word air to designate the vital fluid that drives the instrument. This choice of words echoes our use of color clouds, as a metaphor for the creative impulse that animates us.
HORS CADRE - CT GALLERY, MEGEVE
"Cette exposition propose une immersion dans l'univers des huit photographes présentés à la CT Gallery, depuis son ouverture en décembre 2014. Le dialogue de ces œuvres offre un aperçu de la variété et de l'étendue du champ photographique contemporain : voyages, reportages à la poursuite de l'Autre, portraits intimes, instants volés ou posés, temps suspendu entre mythe et réalité…
Au-delà de leurs singularités, tous ces photographes ont en commun ce médium si particulier, ainsi qu'un défi constamment renouvelé : révéler l'écriture de la lumière. Cadrage, ouverture du diaphragme, vitesse d'obturation, choix de la sensibilité sont autant de paramètres techniques sublimés par la virtuosité de ces artistes.
Tous parviennent à saisir une réalité qui dépasse la perception réelle. Leur curiosité insatiable et leur goût de l'Autre nous révèlent à nous-mêmes. Qu'est-ce que la photographie, sinon l'idée que l'on s'en fait ? A nous de pratiquer cette gymnastique de l'observateur observé.
Les photographes sont des conteurs, des passeurs d'histoires qui témoignent et nous interrogent. En construisant un nouveau regard sur le monde, ils explorent et rassemblent des fragments de son actualité, de ses tourments et de sa beauté : « Collectionner des photographies c'est collectionner le monde » (Susan Sontag, Sur la Photographie, 1977).
Cette exposition réunit des œuvres de Steve McCurry, Jonas Bendiksen, Denis Rouvre, Rolf Sachs, Jan Gulfoss, Isabelle & Alexis, Alexis Pichot et Gérard Uféras."
Marie Vacher and Jeanne-Hortense Rousseau, art curators.
October 7 > December 11 2016
TERRITOIRES IMAGINAIRES - CT GALLERY, MEGEVE
"The exhibition Territoires imaginaires (Imaginary Territories) presents the meeting of two worlds, those of Alexis Pichot, a light painter, and Isabelle Chapuis, whose talent for sublimating materials was rewarded by a Picto Prize for young fashion photography in 2010 and a Talent Grant in 2012.
Alexis Pichot's photographs bring to life the silent spaces of the night. Experimenting with light, he reveals the spirit of the places around him, metamorphosing industrial wastelands and natural landscapes alike through poetic, contemplative stagings.
The Blossom series is the outcome of his collaboration with Isabelle Chapuis. While both artists make use of ephemeral interventions to reveal the essence of a place, Isabelle contributes her taste for chrysalis-like materials, organic vibrations and pigment.
'Blossom' is the name of a colourful cloud that inhabits various emotionally charged spaces chosen by the artists in the course of their many travels. By capturing the moving swirls of coloured smoke, Isabelle & Alexis explore new space-time territories.
These two worlds invite the viewer on a silent crossing filled with mystery and reverie. Combining photography and performance, they challenge our imagination and senses to apprehend a changing environment."
Marie Vacher and Jeanne-Hortense Rousseau, art curators.
112 rue Saint-François 74 120 Megève
June 4 > July 22 2016
SOLO SHOW AT RIVIERE FAIVELEY GALLERY - PARIS
The exhibition presented a selection of our last Blossom photographs, and 2 photo / video installations :
- "Les figures du vent" immersive installation : large print, video in collaboration with David Coiffier, poetry and smoke typologie.
- "Dernier souffle" : in collaboration with french photographer Bruno Fontana. A memory work that deals with the disappearance of french public phones.
The Gallery is located 70 rue Notre-Dame de nazareth 75003 Paris.
From 24th of March to 15th of May 2016.
GROUP SHOW AT THE ITALIAN GALLERY PH BROKING DURING "LES RENCONTRES DE LA PHOTOGRAPHIE D'ARLES"
22 rue des Porcelets, 13 200 Arles
July 6 > August 16 2015
"MIST" GROUP SHOW AT RIVIERE FAIVELEY GALLERY - PARIS
A selection of our photographs were exhibited next to the beautiful Juliet Piper's Hydrometeor series.
From 17th of June to 31st of July. The Gallery is located 70 rue Notre-Dame de nazareth 75 003 Paris.
INSTALLATION AT STUDIO ROUCHON - PARIS
In the courtyard of Rouchon Studio, you can discover our new large format collage. The picture measures 12 meters long by 3 meters high.
35, rue du Fer à moulin - 75005 Paris
EXHIBITION AT GALLERY MATHILDE C. - PARIS
A selection of our Blossom pictures is exhibited at Gallery Mathilde C from March 12th until May 18th.
Rendez-vous at the Gallery on tuesday 12th of May from 6pm to 9pm.
11, rue Jean-Pierre Timbaud 75011 Paris.
For more information, download the Press Release.
EXHIBITION AT GALLERY BETTINA - PARIS
A selection of our Blossom pictures was exhibited at GALLERY BETTINA from February 10th until March 11th.
2, rue Bonaparte 75006 Paris
HOLZWEILER SHOW ROOM - OSLO
November 2015
GROUP SHOW AT "ESPACE CHRISTIANE PEUGEOT" - PARIS
As part of the festival "The month of photography - Paris 2014", a selection of our blossom series were exhibited alongside other artists such as Marie Hamel, Julie Rochereau, Irène Jonas, François Pohu-Lefevre and Michel Pincaut.
For this exhibition, we did a specific print for mirror, which let transparent the hight lights of the image. So that people can see themself in the image and live an immersive experience.
Espace Christiane Peugeot : 62 avenue de la Grande Armée, 75017 - Paris.
From the 27th of october to the 9th of november 2014.
STREET EXHIBITION DURING THE PHOTO FESTIVAL - ARLES
JULY 2014
Every year in Arles the famous photo festival occurs : Les Rencontres d'Arles. Obviously we couldn't go there without pasting our images, so after many hours of work 25 images were put on the walls, creating our own open sky gallery.
This exhibition was well received and named the best off the off by L'Oeil de la Photographie.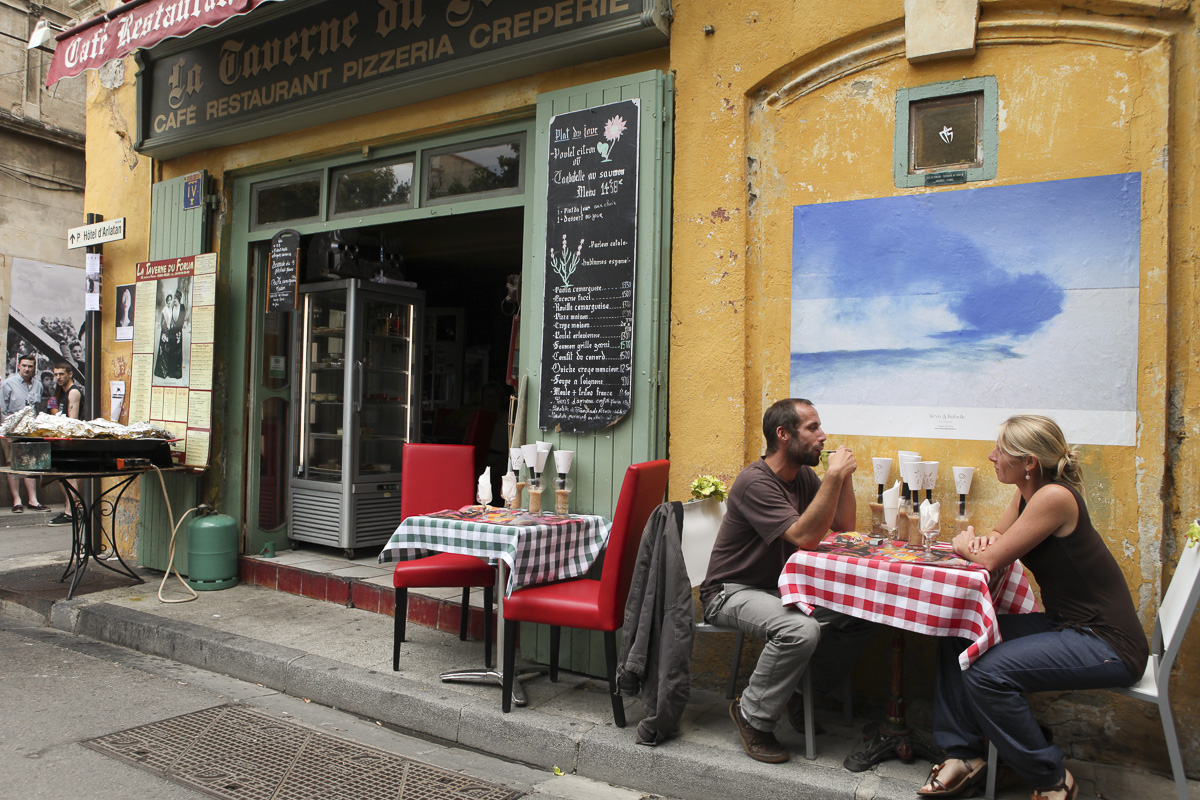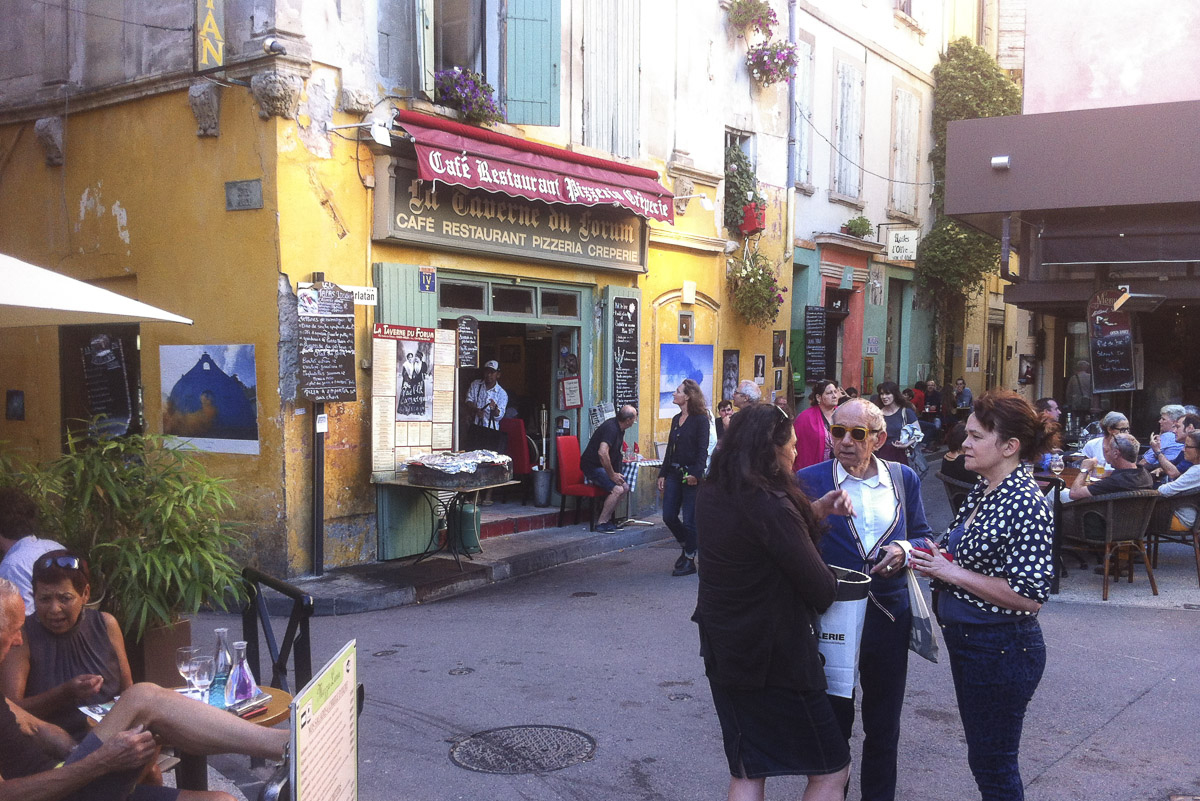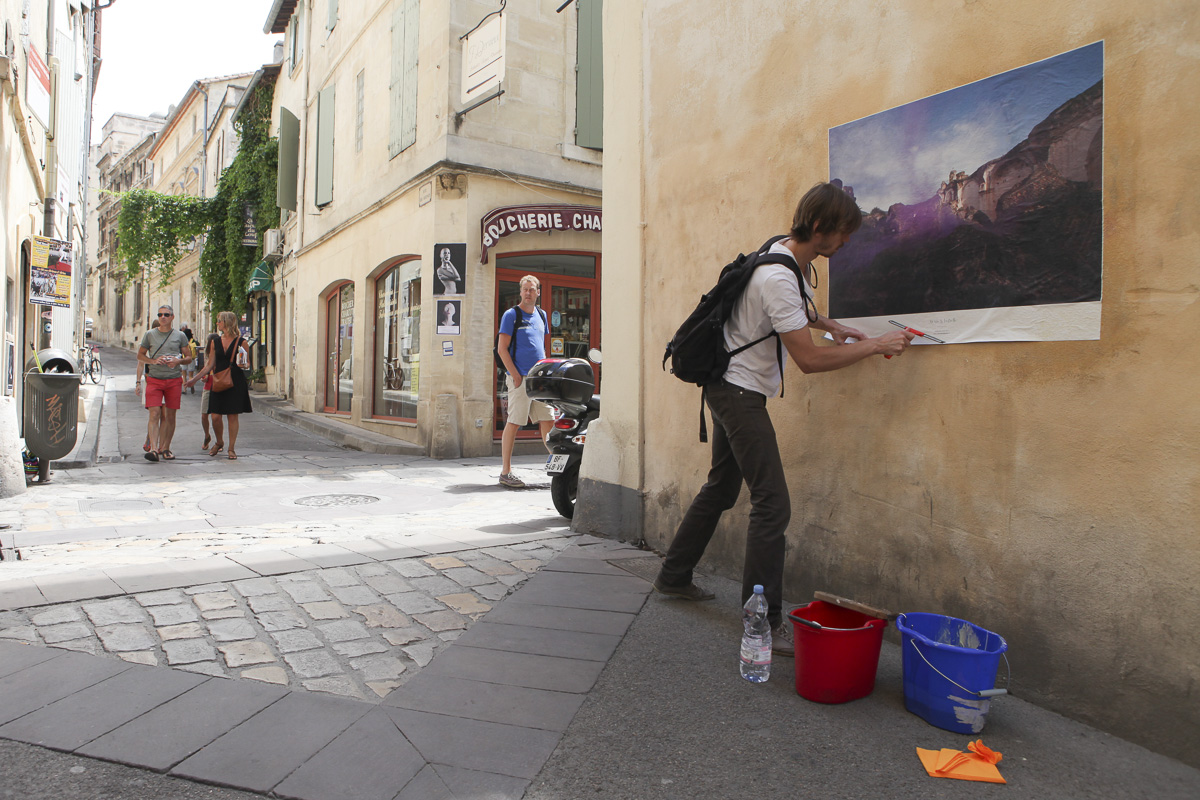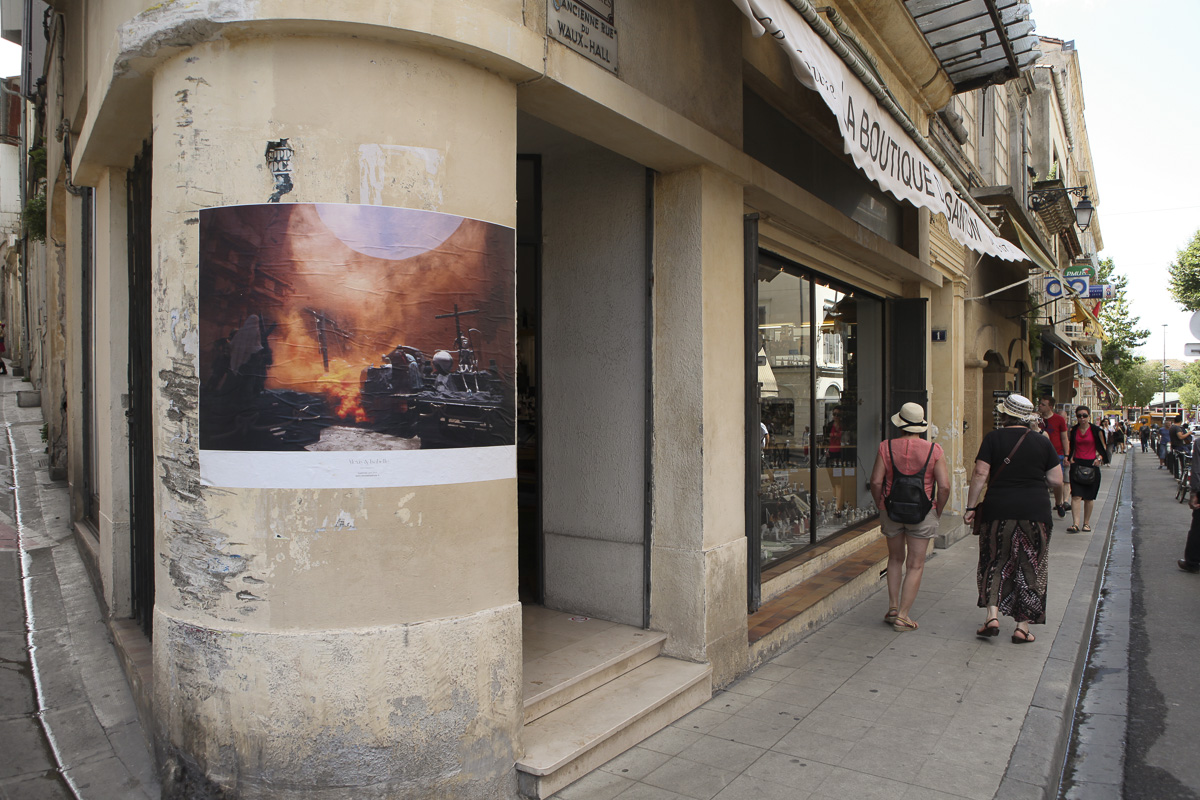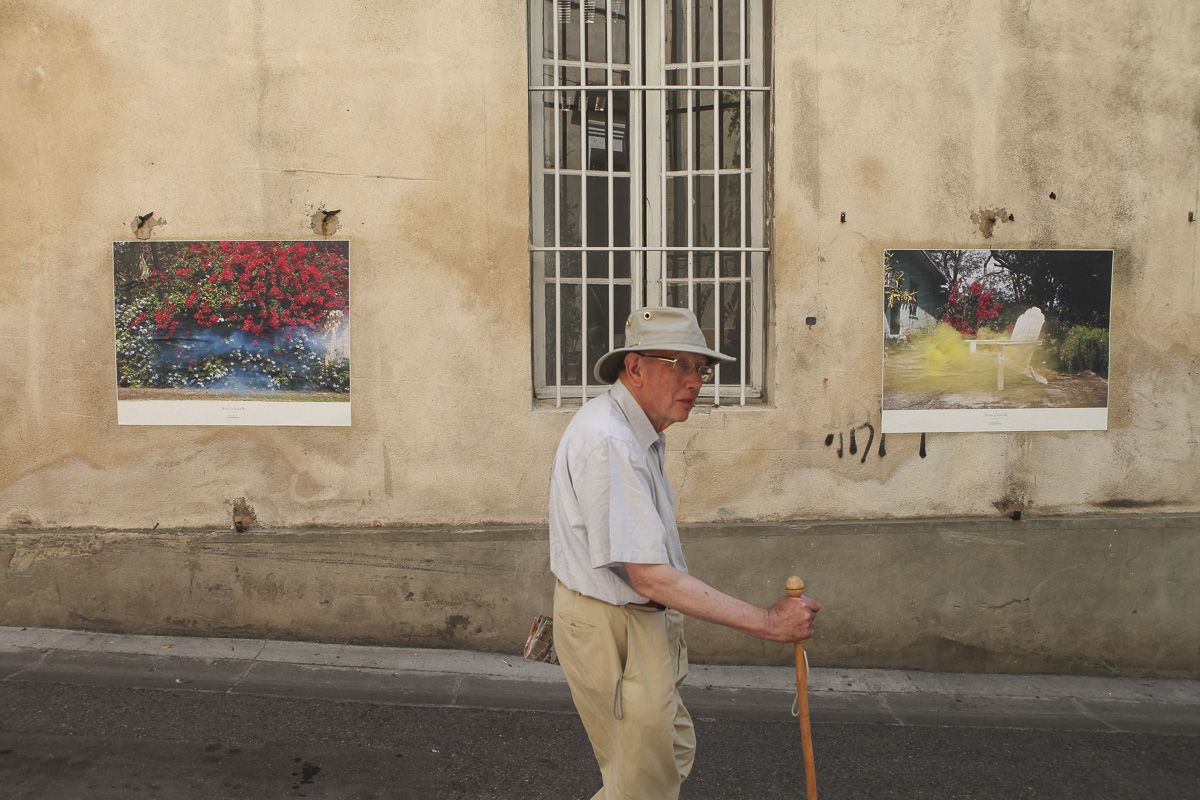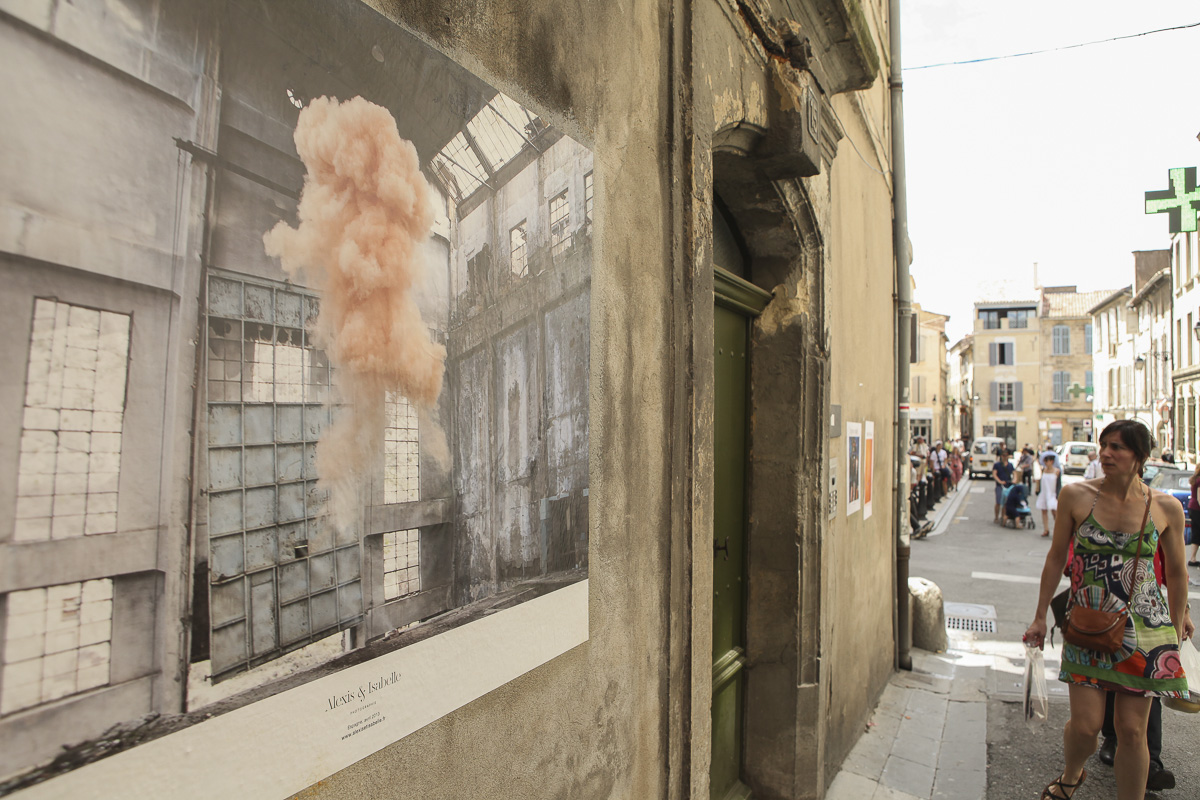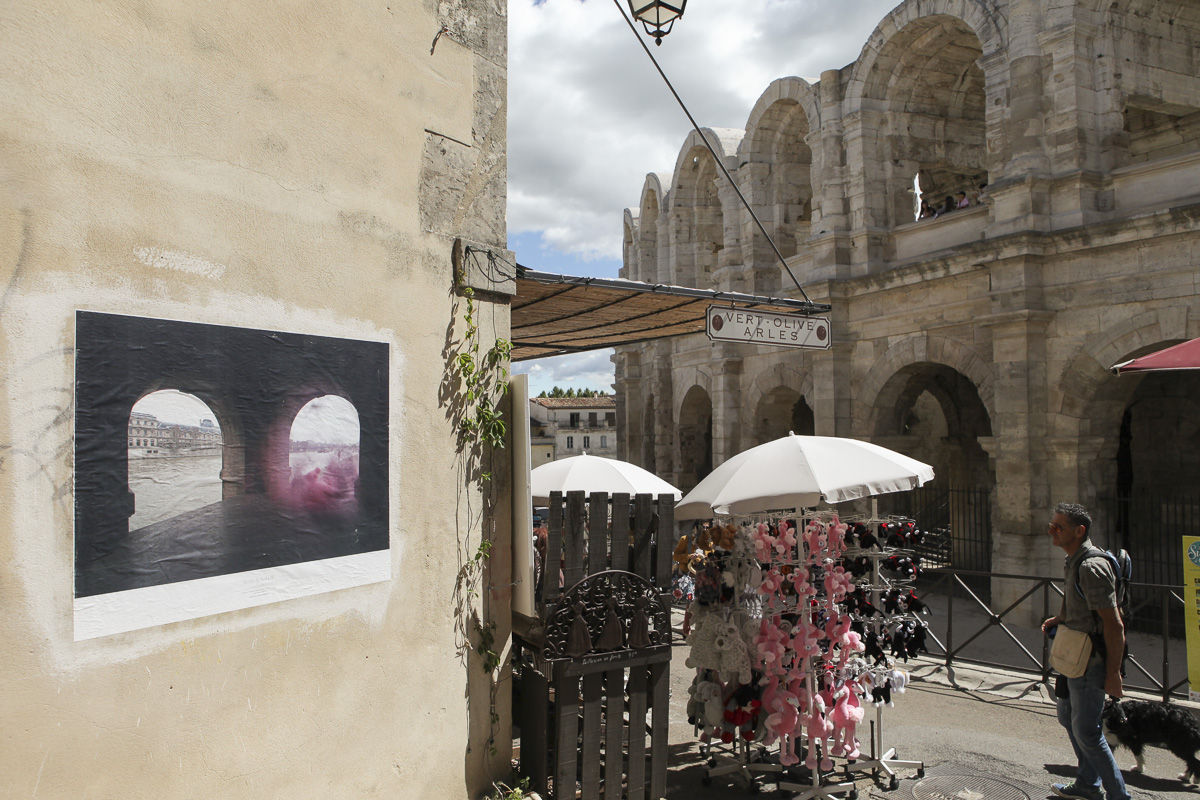 STREET EXHIBITION IN SAINT-GERMAIN-DES-PRES - PARIS
2012 & 2013
During Paris Photography Month, in November, the area of Saint-Germain-des-Prés organises a photo festival. We decided to paste our photographs on the walls at the heart of the festival. On Wednesday, the 6th of November, in Visconti street, we set up an impromptu, fleeting, street exhibition which welcomed numerous visitors.
Press :